BEL Childcare Services Overview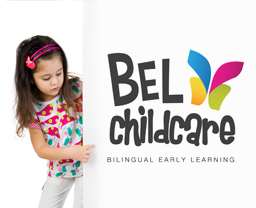 Starting in a Crèche, Pre-School or Afterschool setting for the first time is a big leap for both parents and children. This experience must be a process of establishing trust with parents and teachers, so that children can become independent as they grow in confidence to manage the world outside of home.
With the benefit of over 25 years experience in Early Childhood Education, we at BEL Childcare are dedicated to creating a secure, vibrant, stimulating and nurturing environment for your child during this influential time. We look forward to being partners with you as we guide and encourage your children to grow and discover themselves as young learners.
We have established our services so that children in our care can feel safe to explore a new environment, new materials and new relationships. At BEL Childcare we welcome both children and parents into a community and a partnership with teachers. We look forward to being partners with you as we guide and encourage your children to grow and discover themselves as young learners.
BEL Childcare Service Summary
BEL Classrooms Overview
Our classrooms and staff to children ratios are as follows:
Baby Room (6 months to 18 months approx.)
1:3 children under 1 year
1:5 children over 1 year
Wobbler Room (from 12 months to 2½ years approx.)
1:5 children under 2 years
1:6 children over 2 years
Toddler Room (from 2 years to 3½ years approx.)
1:6 children under 3 years
1:8 children over 3 years
Pre-School Room: Sessional ECCE (from 3 years to 5½ years approx.)
1:11 children
Pre-School Room: Non-ECCE (from 3 years to 5½ years approx.)
1:8 children
Afterschool Service
1:12 children
ECCE Scheme
The ECCE was announced by the government in April 2009 as a way to make quality early education accessible to all children as they prepare for primary school.
As per the new budget, from September 2016, the age range for children on the ECCE Scheme will increase. Children will be able to start in free pre-school when they reach age 3, and to remain in free pre-school until they transfer to primary school (provided that they are not older than 5 years 6 months at the end of the pre-school year). Parents will be able to enrol their children on the scheme at three different points during the year: September, January and April.
From September 2016, we will offer 3 sessions of the ECCE Scheme, 5 days per week. Our morning sessions will run from 8:30am to 11:30am and our afternoon session will run from 12:30pm to 3:30pm. All sessions will run in accordance with the ECCE Calendar. We provide a free, healthy snack for children in all sessions.
Parents of children on the scheme may choose to book additional hours of care. Many parents in our service choose to use this option by booking in their child for the Early Birds Breakfast Club, Lunch Club or both.
BEL Services, Facilities & Resources
BILINGUAL EARLY LEARNING. Introduction to second languages, including Irish, Spanish & Polish

Full & Part time Day Care & Sessional Care

Morning & afternoon ECCE Pre-School sessions

Afterschool care: 5+ years

Activity Camps: Summer & mid-term

English language development classes

Stimulating classrooms and rest areas

Broad curriculum based on Síolta and Aistear

Fully qualified, experienced and Garda vetted staff

Nutritious meals and snacks prepared on site by our crèche cook

Free healthy snacks for ECCE children

Family discount for siblings

Free settling-in period

Opportunities for parental involvement

Newsletter & Little Vista app for parents

Graduation & Class concerts

Santa's visit & surprise

Secure outdoor play area

CCTV

Under-floor heating

Convenient parking

Methodology and resource library for staff
Parent Testimonials
My son and daughter both started with BEL in the baby room, a daunting experience for us handing over our precious little ones to anyone for the day, but the staff in BEL make it a very positive experience for all. We've always found them easy to talk with and found the handover in the morning and back in the evenings was always excellent. The introduction of the Little Vista app also means I can now talk to the kids more about their day and what they learned.
In every room from babies to wobblers, toddlers and now in pre-school, our kids have been very fond of their carers – giving them big hugs in the morning and evening. Knowing that they are well cared for, well fed and stimulated throughout the day, has made BEL a very pleasurable experience for all the family and I couldn't thank all the staff enough for this.
We have two daughters attending BEL full-time. Both have been attending since they were 11 months old. From our first 'research' visit, when we were shown around the centre, our experience has been positive. Handing your babies over to somebody new for 8-9 hours a day is not easy, but we have found the staff to be kind, patient and full of happy, smiling facial expressions, which our girls have responded very well to.
For our second little girl, the move from being with mum full-time to crèche full-time was a hard one. On those first few days in crèche, I appreciated the phone calls from staff to collect her early, as she was so upset. Honesty is the best policy! The baby room staff are to be commended for their patience and resilience in settling my little one into her new environment.
Our older daughter has moved up through the crèche to pre-school and each move was handled carefully – gradually exposing our daughter to the new room until she was comfortable with it, while also providing plenty of interaction with us as parents. All the staff across the rooms, are to be commended for their nurturing and attentive qualities.
The Little Vista app is a great way of staying in touch with what our little ones are up to throughout the day. With the photos, meal time, sleep time and activity info etc. it's a great way of getting real time updates. Additionally, the observation reports which BEL issue are a great check-in as to how our little girls are developing.
I would totally recommend BEL Childcare as the staff are truly amazing and I'll be forever grateful for their kindness in caring for my children. The peace of mind I had returning to work after maternity leave for both my children was invaluable, knowing that my children were receiving the best possible care. Both my children run into class every morning and sing the names of their children en route to crèche.
My children have attended since they were 11 months old, with one now in pre-school and I cannot speak highly enough of their teachers, who are loving, patient, friendly and accommodating – no ask is too great. This is also true for the admin staff, who are efficient, approachable and keep us up to date on events. The resources, such as arts and crafts and meals are top class. BEL was recommended to me and I've no regrets whatsoever. Thanks to all at BEL.
Questions or Queries?
We understand that a parent will have many questions or concerns when enrolling their children into a childcare facility. Please do not hesitate to contact us with any questions or queries. We're happy to help!